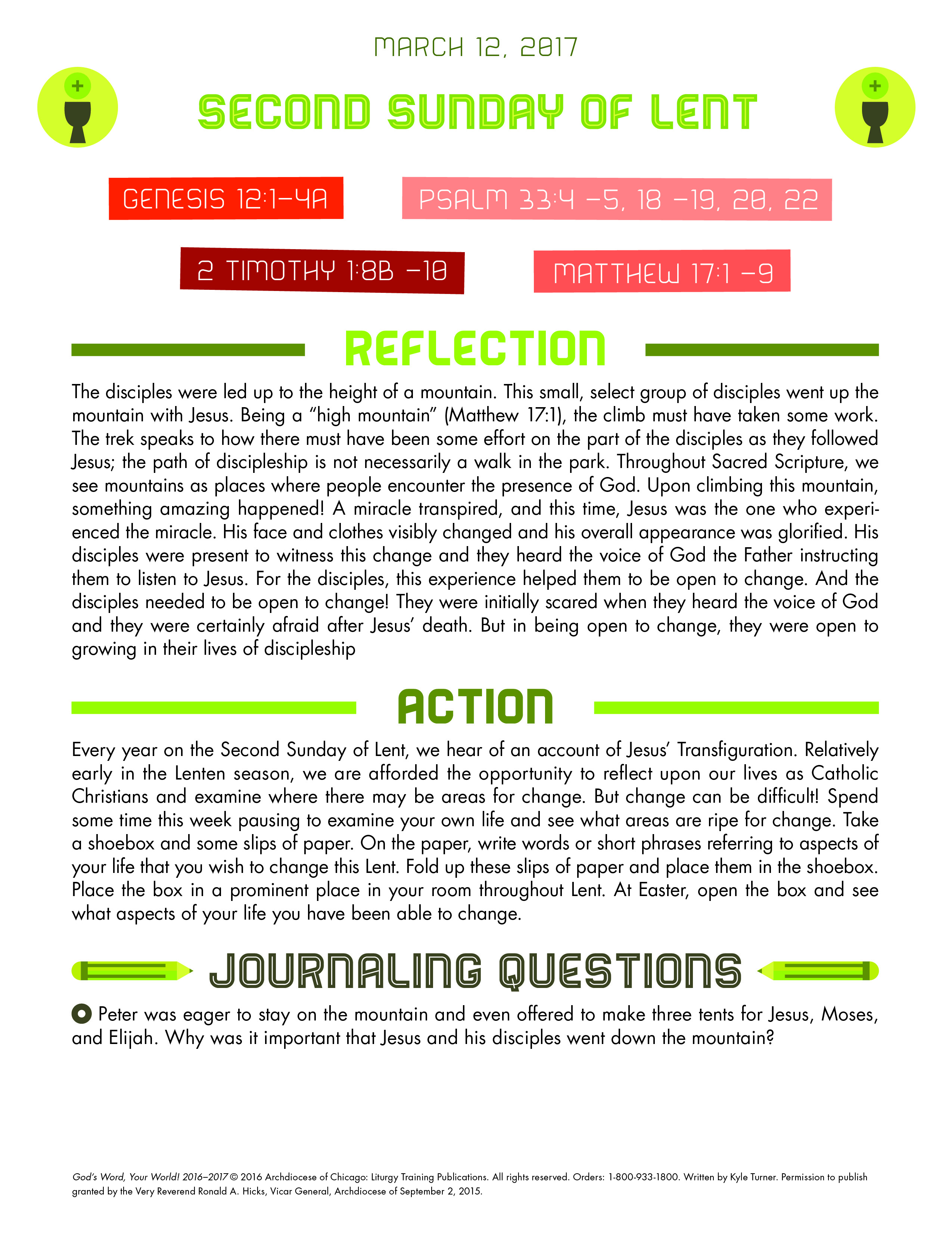 Jim's Reflection
After reading the story of the Transfiguration, the big star is Peter, who just wants to keep the party going. It got me to wondering if Peter ever struggled with his faith before he died. After all he witnessed in Jesus' life, I bet he still had days when faith didn't make any sense to him. I hope his memories of Jesus, especially this week in the Transfiguration, helped.
Matthew's Gospel says that Peter, James and John clearly saw how Jesus was the fulfillment of God's promise to the world during a special spiritual experience with Jesus on a mountain.
I've had "transfiguration" experiences like that on retreats, Youth Ministry and Confirmation classes, special Masses, serving at St. Anthony's, Youth Rallies, LA Youth Days and World Youth Day experiences...and also in private prayer. During those times it seems so clear to me that Jesus is the answer to all I've ever wanted. But boy there are days when I struggle with doubt sometimes, asking myself, "Is this God thing really sure?" When pettiness and jealousy, ego and righteousness, bullying and judging invade how we treat one another--I wonder if I'm just kidding myself or if this "faith" thing is for real. That's when my memories of my transfiguration experiences...my real relationships of love and compassion, reassure me. They have gotten me through some tough times.
Have you had a transfiguration experience...perhaps on a retreat, during Mass, at a Youth Ministry meeting, or in a prayer when it seemed certain that Jesus is the one for you? If so, thank God! It will help in hard times. Write that experience down...that way you can always remember it when doubts start to creep in.
If you haven't had a transfiguration experience, ask God for one this Lent. Sign up for a retreat, or find a way to start some kind of extended service. During it, ask God to give you the opportunity to see just as the Apostles did on that mountain. Pray about it and talk about it with those important to you...your transfiguration might happen slowly over time...either way, a mountain is in your future!

Teddy's Reflection
The gospel this Sunday is about The Transfiguration, which always reminds me of retreats that I've attended through ministries at St. Anne. On a number of these retreats, I remember using this reading during closing prayer because these retreats, like The Transfiguration, are mountain top experiences. When I say mountain top experiences, I'm thinking of moments when we have a spiritual high, or when we feel especially connected with our faith.
I've typically had these mountain top experiences at retreats or in small groups where people are so open minded and open hearted that I observe immense growth in them in just one weekend. I've also had experiences like this through simple conversation about faith when someone challenges or inspires me with a different perspective. I've even had moments while praying and reflecting when I feel a voice speaking to me, answering my questions about struggles I've been going through. I believe we all have experiences like this in our own way.
While it's awesome that the Spirit speaks to us in these moments, I've learned that it's even more important for us to take what we learn and do what we can to share it with others.
It's for this reason that The Transfiguration is used at the end of retreats. Typically people get what we call a retreat high, when we feel so filled with the Spirit that we don't want to leave retreat, much like the disciples wanted to pitch tents and stay on the mountain top. However, the disciples had to come down from the mountain and then preach to others. I remember what a speaker at LA Youth Day said: "Youth Day is not a place we go to. It's a place we go from." After we experience our own mountain top experiences, I believe we are challenged to inspire the same in others. This can be as simple as offering encouragement and support when we know someone is struggling, having a casual conversation about our faith and beliefs, or giving spiritual advice. Being filled with the Holy Spirit isn't the end, but the beginning to a sharing of our faith.