2016-2017 Gospel Reflections
Jeffy's Reflection
This Sunday's gospel describes what we call the passion of Jesus Christ, were he is crucified, he died and he rises from the dead. In some way, our everyday life is like the passion. We are judged in way or form, challenged and then rise to that challenge or struggles and live for the next day.
God gives us this challenges in life and teaching us what happens when we make the right decisions and wrong ones too. Sometimes, the right decisions don't give the positive outcome. This is where WE as Christians must trust in God and never doubt him.
Remember Simon the Cyrenian, who helped carry the cross of Jesus. Simon represents those around us; friends, teachers, counselors, teammates, to help with our struggles and challenges. We need not to be afraid to ask for help. "Ask and it will be given to you; seek and you will find; knock and the door will be opened to you."
Sally's Reflection
Palm Sunday begins Holy Week, the holiest week of the Church year. We gather together to pray, sing, rejoice, and celebrate. We reflect on our forty days of Lent. Not just what we gave up or did, but the time of fasting and praying for enlightenment on how we can follow in His footsteps.
I pray and reflect on Sunday's Gospel. The Word, "This night all of you will have your faith in me shaken."
How many times have I said, "I trust in you, Lord?" Then I doubt what I am doing, where I am heading, and deny Him? It isn't just at Lent that I must empty my heart. I need to ask God to fill me with His love and grace to do His will every day. I recalled when I lost someone close to me. I was sad, hurt, and angry. "Why, God? I needed her in my life. Why take her now?" He gave me signs all along the way but I didn't stop to listen. I struggled and faltered with my faith during this dark time. Turning my back on God was not a good choice. He never abandoned me. I abandoned Him.
It is in those moments when I must surrender myself. I need to humble myself at the foot of the cross and ask for His mercy and Grace.
Everyone has his or her faith shaken at one time or another. It is in those times that we can leave Christ and find it too difficult to follow Him. Jesus never said it would be easy. He also said we would never be alone. I have the Eucharist, the Word, and my community to give me strength to draw upon. I need to work at my relationship with Jesus Christ daily through prayer, reflection, and acts of kindness. He forgives me. He gives me strength to love and serve others.
What signs have we been given, which have led to conversion?
Come and let's celebrate this Holy Week together.
Peace in Christ.
Alfred' Reflection
"My Father... your will be done!"
I recall feeling my stress and anxiety levels rising when I sat down in the exam room. Hundreds of high school seniors were preparing to take the SAT in the room with me, along with hundred of others in nearby rooms, and thousands around the country. One assessment, along with grades and life experiences, would influence our futures. I closed my eyes, took a deep breath, and said something like Jesus' prayer above. My stress and anxiety remained but it was under control and I focused on the task at hand.
I repeated the prayer, "My Father... your will be done!" many times in my life, often in situations that I could not really influence. I've prayed it at the hospital, while holding vigil over sick loved ones. I prayed it during tricky moments as my wife gave birth to our children. I've prayed it while waiting to hear about a hiring decision. Sometimes things didn't work out the way I wanted, but I can accept that. Many times things worked out very well and for that I am very thankful!
My experiences cannot compare to what was facing Jesus. He knew that he would be arrested, judged, and put to death in a very cruel and painful way. Jesus, fully understanding what was to come, willingly accepted it to fulfill God the Father's will. Because of that, we as Catholics believe that Jesus died for our sins and rose from the dead. Jesus reset the game, giving us a new beginning, to make it possible to go to heaven. This Holy Week, we should open our eyes, ears, and heart to understand the Father's will, Jesus' sacrifice, and what we can do with our new beginning to carry out God's will.
Collins' Reflection
This week's gospel is about the blind man given his sight by Jesus. How many times have we been blinded by other things in life that are not as important as our faith? For my reflection this week I am reminded of a dark time in my life I was working at a job that I really was starting to be really unsatisfied with and I was looking for any reason or way to get out. Only when I asked God to open my eyes to why I was still at this job did he reveal to me that my God given talent was not done yet so I had to work at the things that were challenging me and making me blinded by the struggles.
I also thought it is important to mention the parents of the blind man who knew him to be blind from birth but didn't want to admit that they knew how his eyes had been open by Jesus in fear of the Pharisees. When we were children our parents although they love us didn't always believe the crazy story that their children come up with. The blind man's parents believed but were too scared to admit that their son has been healed by Jesus. "Surely we are not also blind, are we?" Jesus said to them, "If you were blind, you would have no sin; but now you are saying, 'We see,' so your sin remains."
This passage spoke to me the most because is is Jesus calling us out as having sin and not really doing anything about it by doing anything I mean not acting to reconcile with God the father. We should be using this time of Lent to repent and bring ourselves back to the good grace of God.
Ali's Reflection
This Sunday's Gospel reminded me that sometimes faith is blind. That we do not always necessarily have to see to believe. If we believe and follow Him, God will work in ways to help us when we are stuck in a rut or even when we don't think we deserve it and often in ways that we may not even notice or really have a visible lived experience of. I have compassion for the blind man who had his eyes opened by Jesus because the Pharisees would not believe in the miracle that Jesus did and the significance of it. To me, it seems like the Pharisees are the ones still left in the dark still trying to answer their questions in disbelief, while the blind man was invited to see the light which made him believe immensely in God's works.
I'm reminded of times when I've noticed young people speak up about their opinions in communities like at political rallies, at school sometimes and especially at home, but their voices and concerns are dismissed, often by elders or others of authority. I sense some injustice when they get pushed aside, passed off, condescended or not taken seriously, which is what I feel the Pharisees and even the blind man's parents did, when he was being questioned.
On the other hand, I think the message Jesus was trying to bring in his actions were that we, as children of God and as sinners, still need to advocate for ourselves, and we need to do the same for each other and shed some light as Jesus had done for the blind man. God is our ultimate advocate and He does not discriminate his love even if you are a sinner. It was said by the blind man in the Gospel, "We know that God does not listen to sinners, but if one is devout and does his will, he listens to him." I think it's kind of an opportunity for redemption if we're willing to accept and choose to act upon the opportunity, just as he did, and it's really what this season of Lent is all about.
Kristenne's Reflection
Where do you see God in your life? Maybe you're looking for a miraculous event like this week's gospel of a blind man getting his sight. Or maybe you see God when people offer their seat on the bus. Or maybe you're like me and you see him in your best friend who helps you through tough times.
Perhaps, you're having trouble seeing him at all right now?
I was reminded of this video when I think about the lesson of faith that Jesus presents this weekend. I hope you enjoy it as much as I did. Just remember: sometimes we don't see God's plans for us, but know that you aren't alone in your journey.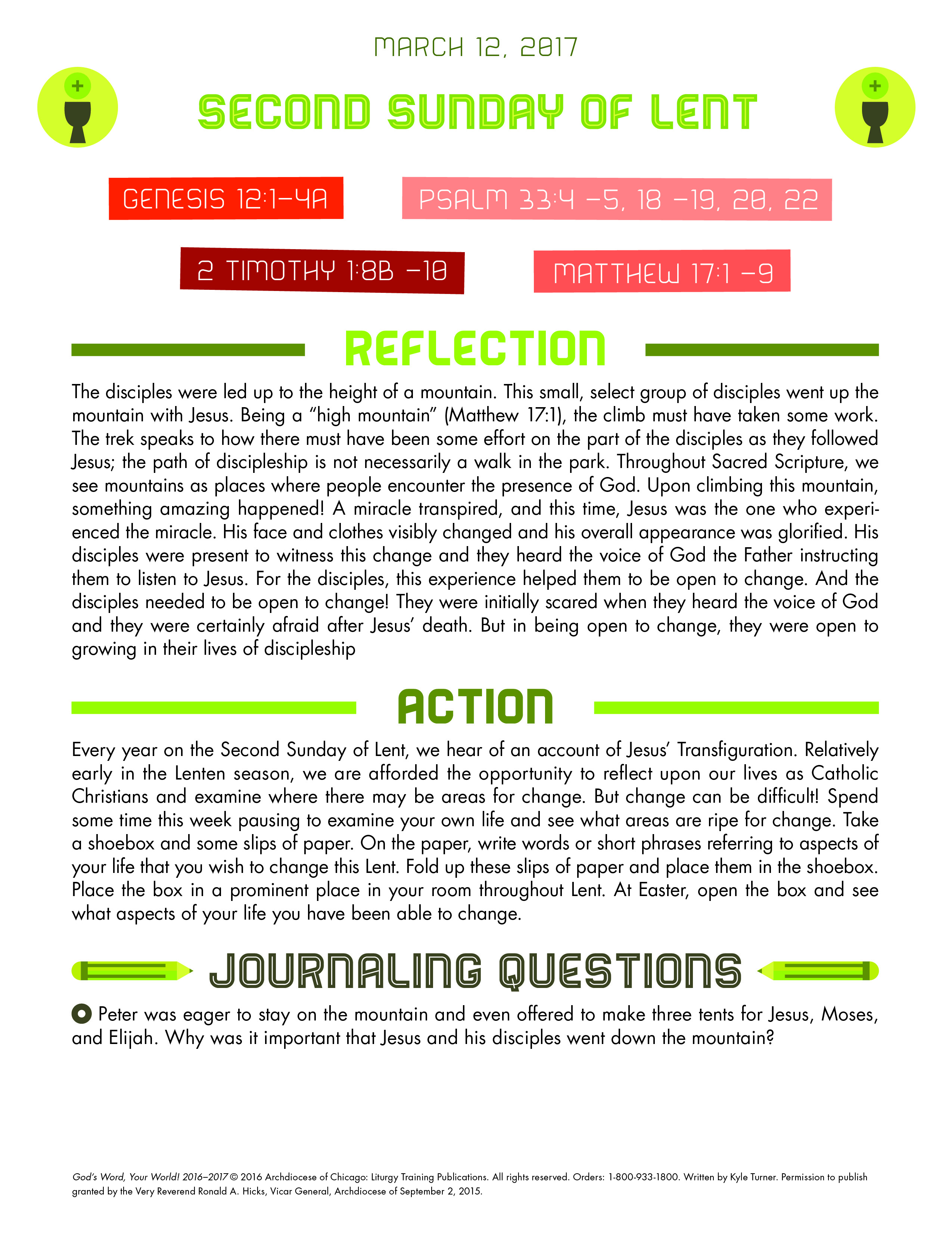 Jim's Reflection
After reading the story of the Transfiguration, the big star is Peter, who just wants to keep the party going. It got me to wondering if Peter ever struggled with his faith before he died. After all he witnessed in Jesus' life, I bet he still had days when faith didn't make any sense to him. I hope his memories of Jesus, especially this week in the Transfiguration, helped.
Matthew's Gospel says that Peter, James and John clearly saw how Jesus was the fulfillment of God's promise to the world during a special spiritual experience with Jesus on a mountain.
I've had "transfiguration" experiences like that on retreats, Youth Ministry and Confirmation classes, special Masses, serving at St. Anthony's, Youth Rallies, LA Youth Days and World Youth Day experiences...and also in private prayer. During those times it seems so clear to me that Jesus is the answer to all I've ever wanted. But boy there are days when I struggle with doubt sometimes, asking myself, "Is this God thing really sure?" When pettiness and jealousy, ego and righteousness, bullying and judging invade how we treat one another--I wonder if I'm just kidding myself or if this "faith" thing is for real. That's when my memories of my transfiguration experiences...my real relationships of love and compassion, reassure me. They have gotten me through some tough times.
Have you had a transfiguration experience...perhaps on a retreat, during Mass, at a Youth Ministry meeting, or in a prayer when it seemed certain that Jesus is the one for you? If so, thank God! It will help in hard times. Write that experience down...that way you can always remember it when doubts start to creep in.
If you haven't had a transfiguration experience, ask God for one this Lent. Sign up for a retreat, or find a way to start some kind of extended service. During it, ask God to give you the opportunity to see just as the Apostles did on that mountain. Pray about it and talk about it with those important to you...your transfiguration might happen slowly over time...either way, a mountain is in your future!

Teddy's Reflection
The gospel this Sunday is about The Transfiguration, which always reminds me of retreats that I've attended through ministries at St. Anne. On a number of these retreats, I remember using this reading during closing prayer because these retreats, like The Transfiguration, are mountain top experiences. When I say mountain top experiences, I'm thinking of moments when we have a spiritual high, or when we feel especially connected with our faith.
I've typically had these mountain top experiences at retreats or in small groups where people are so open minded and open hearted that I observe immense growth in them in just one weekend. I've also had experiences like this through simple conversation about faith when someone challenges or inspires me with a different perspective. I've even had moments while praying and reflecting when I feel a voice speaking to me, answering my questions about struggles I've been going through. I believe we all have experiences like this in our own way.
While it's awesome that the Spirit speaks to us in these moments, I've learned that it's even more important for us to take what we learn and do what we can to share it with others.
It's for this reason that The Transfiguration is used at the end of retreats. Typically people get what we call a retreat high, when we feel so filled with the Spirit that we don't want to leave retreat, much like the disciples wanted to pitch tents and stay on the mountain top. However, the disciples had to come down from the mountain and then preach to others. I remember what a speaker at LA Youth Day said: "Youth Day is not a place we go to. It's a place we go from." After we experience our own mountain top experiences, I believe we are challenged to inspire the same in others. This can be as simple as offering encouragement and support when we know someone is struggling, having a casual conversation about our faith and beliefs, or giving spiritual advice. Being filled with the Holy Spirit isn't the end, but the beginning to a sharing of our faith.
Michelle's Reflection
The Gospel states that, "No one can serve two masters. He will either hate one and love the other, or be devoted to one and despise the other. You cannot serve God and mammon." Mammon may simply be defined as material wealth or wealth regarded as an evil influence. Today, it is so easy to become attached to material things like our iPhones, laptops, and name brand shoes or clothes. Many people put most of their energy towards keeping up with the latest trends; however, is this what God asks of us? Does He want us to stress out on not having all of the material things we want?
I believe the Gospel asks us to reflect on our wants versus our needs. Most material things are what we want, but do we really need them? Why not seek what our lives need most? Sometimes we need to take a break from the screens and get some fresh air. Sometimes we need to read an amazing story. Sometimes we just need to converse with another person. The Gospel also says, "If God so clothes the grass of the field, which grows today and is thrown into the oven tomorrow, will he not much more provide for you, O you of little faith?"
I know God works in curious and sometimes perplexing ways. I also know that a lot of times things happen at the right moment. It is during those moments that God is giving us what we need. Although it may not be the latest iPad or a brand new pair of shoes, He has something better and knows when the time is right to give us what we need. We just need to have faith and trust in Him.
Samantha's Reflection
There were many different lines and verses that stood out to me in this Gospel reading. The first one was, "Can any of you by worrying add a single moment to your life-span?" I like this line because it's so upfront and straightforward. In other words, worrying won't get you anywhere, so why do it? I think it is human nature for us to worry- we worry if we have a big test coming up, an important meeting or interview, when we're overwhelmed with school and/or work and other activities. We worry about loved ones and friends- whether it's their physical or mental health, or just their overall well-being. But Jesus basically tells us, why worry, why doubt?
If God takes care of the birds and grasses, Jesus asks, why would he not take care of you, "O you of little faith?" With all the worries that we have going on, I feel like this is God's way of saying, "Don't worry about it. I got this." We may get so caught up in our anxieties that we forget that God has our backs. Jesus goes on to explain why we shouldn't be anxious.
He says, "Your heavenly Father knows that you need them all." God knows what we need before we even ask for it, and that we merely need to "seek first the kingdom [of God] and his righteousness." In other words, do God's will, follow his commandment to love one another, and everything will fall into place. What we want may not be what God deems us to need. It ties into the first verse of this Gospel, "you cannot serve God and mammon." The only thing we truly need in this world is God. For me, this Gospel reading reminds me that in my decisions, interactions, problems, hopes, and dreams- in everything- put God first and He will take care of the rest.
Teddy's Reflection
In this week's gospel, we see the beginning of Jesus' ministry, as well as his first disciples. Jesus says to Peter, Andrew, James, and John while they are fishing, "Come after me, and I will make you fishers of men." Seemingly, without hesitation, they put down their nets and follow Jesus.
In our lives today, I believe that Jesus calls to us to follow him by presenting us with opportunities to evangelize. I know that evangelization can sound intimidating, but I think it's actually quite simple. A Google search of "catholic" gives two meanings that help define our faith: universal and all-embracing. I interpret that as meaning that Catholicism is meant for everyone and embraces all people. In short, evangelization to me means spreading love and compassion to all people.
When I say that we are presented with opportunities to evangelize, I don't think of standing on top of a platform and preaching, but I think of everyday situations where we can show love and compassion. These can come in the form of a person who is outcast, someone who posts something sad on social media, or even when we see people before entering the doors of a building. When we are faced with scenarios like these, I believe Jesus is challenging us to be as open minded as the four fishermen who, without hesitation, follow Jesus. Rather than ignore people who are outcast, we can smile and start a friendly conversation. Instead of scrolling through social media and ignoring sad posts, we can check up on that person and see if they need cheering up. When we see people before entering a building, we can cheerfully hold the door open for them. Every day actions, when filled with love, can make all the difference. It's not easy to do these things without any hesitation whatsoever, but I believe that through prayer and awareness of our faith, we can follow Jesus and become "fishers of men" to spread love and compassion to all.
Maricel's Reflection
In this week's gospel, the three kings visit the new born baby, Jesus. Jesus is a manifestation of the word, a blessing sent to us all so that we could follow His example in how He would live His life. It amazes me that God would send down His son to live amongst us and love us on a personal and human level.
The three kings demonstrate a longing to be near Jesus. They journeyed a long way relying only on faith in the hopes that they would find Jesus. This makes me ponder, am I seeking God? More importantly, am I taking action to be closer to Him. We are invited to constantly walk towards God and grow in a close personal relationship with Him.
Vincent's Reflection
The gospel proclamation of the birth of Jesus Christ and the journey and visitation of the Three Magi. Gospel demonstrates and shows us the faith and determination that these three kings went through to find baby Jesus. All these kings had was a bright star in the sky to go by for direction, but that didn't stop them from finding truth which was written in the prophet. The miracle in meeting baby Jesus for the first time and the journey is what stands out to me.
As we enter the new year we often look to make a fresh start and many people make a news years resolution. I see this resolution as a reflection of baby Jesus. We make a resolution that we try and keep until the end of the year. Quite often times we stick to the goal and sometimes we fail. I see it as the faith journey and the journey these three kings encountered. I see these three kings as our strength as they prayed continuously on their journey. I see the star that they followed as hope which is God. The only we can get through the struggle and pain of meeting our goal is through God and prayer. We often times say our resolution is too hard and we can't do it, but maybe we need to look to that star for guidance and direction to arrive to our destination.
How happy and overjoyed will you be when you meet that resolution at the end of the year as the three kings were when they came upon baby Jesus. I also witness evangelization in the process at the visitation of Jesus. We have three kings, different in their own right, come together to see the king of the world. The change that Jesus had on these three individuals' lives is a prime example of evangelization. So let us all pray more in meeting our new year resolution knowing in our hearts we are never alone.
We sometimes just focus on the end result or goal as success, but success is the journey that you go through at arriving to that goal. God is good all the time!
Sheila's Reflection
How does one prepare for a tragedy?
How does one prepare for negative, difficult or life altering changes?
How does one prepare for the trials and tribulations of life?
Dealing with strife and phonies is not exactly a subject you learn in school and can be morbid and depressing. There should be a required class in school so deal with many of life's curveballs thrown your way. Unfortunately , there isn't. Ostensibly, we would avoid adversity or strive if we could. Unfortunately, it is part of life and we can't.
So the best thing to do is be present in the situation, walk one step at a time with friends and family and weather the storm. This is a blessing in experiencing different facets of life. And when we experience a difficult the journey it is how we come to learn about ourselves and grow closer to family. Challenging life situations enables us to flex and strengthen mental, emotional and spiritual muscle. This isn't called preparing. This is called living. When we live actively in our faith, our personal relationships with others and with Jesus grows and thrives. This is called living in faith.
Living and practicing your faith enables us to live each day in right mind and judgment. When you live in a mindset that brings prayer and meditation you are literally growing personal relationship with Jesus.
When you have personal relationship with Jesus, you're able to cope and deal with the curveballs that life throws your way. In this gospel, Luke tells us we cannot be prepared for Jesus to comes nor do we need to be worried.
"But not a hair on your head will be destroyed. By your perseverance you will secure your lives."
I believe it's because when we have a personal relationship, living wIth Him daily, trusting in Him always, that we will know what to do when He arrives. It's like welcoming home a best friend after years of being apart- No prep needed when you reunite. You feel safe and secure - just hugs and pick up where you left off.
Walking the journey with Jesus And cultivating the bond is how we will know both what God had prepared for us and to not be fooled, tricked or deceived by others.
Vincent's Reflection
Self righteousness. One Pharisee and one tax collector went to the temple to pray.
"The exalted will be humbled and the humbled will be exalted"
Only God can judge.
This gospel reminds me of another verse from the bible; "the first shall be last and last shall be first." How often do we look to be first in the eyes of God, our parents, teachers, coaches and bosses. This is the way society has come to be and what we are raised to become. There is nothing wrong with that mindset and you should strive to be your best, but do not do so to the point of conceit or self righteousness. I often think that when one person puts all their success on oneself and not acknowledging the blessings that got you there, then this mindset occurs. Making oneself better than another is not something Jesus would do. Jesus showed every one of the miracles he did, but never did he boast of it. This was a gift from God that he needed to share and was humble through his acts of mercy and grace.
I've come to learn that God loves everyone the same way. Whether you're slave or free person, Gentile or Jew God loves you. He would rather come to save those in darkness who have sinned, because those are the people worth and need saving. Why? Because we are all made in God's image and no one is no less than another in God's eyes. We may believe we are better than others, but that's not how God sees. That to me is unconditional love. When Jesus died on the cross to save us from our sins, it was for all people. This sinner who prays to God for forgiveness is the just one, because he seeks God's mercy to change his evil ways. The Pharisee who boasts and says he is better than others is not just, because he puts himself above all. When you put others first and do it humbly that is true unconditional love which God asks of us. There is never enough we can do for God, and the main commandment is to love God with all your heart and to love your neighbor as yourself.
Dear God, I ask for the strength of understanding towards love and humility. To not lose focus on what is at hand and to know you are the truth. Everything that I have in life is a blessing given from you and too not take it for granted. I ask for blessings for those in this world that need your light and unconditional love. No one person is more important than another as we are all created in your image with gifts and talents we should share. Let the Holy Spirit continue to be my guidance through your love and mercy as I ask all this through your son Jesus Christ our Lord. Amen.
Maricel's Reflection
The phrase that stuck out to me in this gospel was, "for whoever exalts himself will be humbled, and the one who humbles himself will be exalted." In today's day and age, many people think highly of themselves and credit their achievements all to themselves. The gospel reminds us to humble ourselves and remember that it is through Christ that we are who we are. In addition, we are called to be mindful and recognize our faults instead of constantly boasting. By recognizing and owning our faults we are able to grow and rebuild ourselves.
Alfred's Reflection
One day in high school, a classmate dropped something on my desk. "This was on the floor," he said.
I looked my wallet. I looked at my classmate and I wasn't sure what to say. My classmate was the kind of prankster who could have sat behind me and slowly pulled my wallet out of my back pocket. Or he could have been telling the truth and been helping me out.
I took too long trying to figure out what to say. "You couldn't have said, 'Thanks'," my classmate spat as he walked away disappointed in my lack of gratitude. I was disappointed in myself, too.
In the Gospel today, Jesus heals Ten lepers of their disease. Only one of the ten return to Jesus to praise God and say a heartfelt thank you. The irony is that that one person was a Samaritan, from a neighboring region who was from a related but different religion from the religion Jesus' people. The Samaritan, the outsider, the other, handled his business. The irony is that the other nine healed lepers should have known better; they should have returned to Jesus to praise God and say thank you but they did not.
In our lives today, do we take the time to say thank you to God? How much time to we spend on social media, YouTube, or games? How does that compare to the time we spend in prayer to say thanks every day? Do we show our thanks in our actions and attitude, by paying the love and blessings in our lives forward to everyone around us?
Samantha's Reflection
Lazarus laid at the rich man's door - not on the sidewalk, around the block, or down the street, but at his door, a place that the rich man likely passed everyday to leave or enter his house. But the rich man didn't pay attention to Lazarus and his desperate need for food, clothing, warmth, and shelter.
We see forms of Lazarus today on street medians asking for money, homeless people wheeling around their belongings, or struggling individuals looking into recycling bins to be able to trade cans and bottles in for money. But there are also the not so obvious Lazaruses: the student eating alone during lunch, the quiet girl in class who is depressed but has no one to confide in, or the coworker who everyone talks about because he has a known reputation to be annoying.
In each of these cases the individual is dismissed, ignored, or isolated because the people around them don't have the time, energy, or even desire to care. It's easy to carry on with our daily routines and to continue on with what we're comfortable with.
I think this Gospel is a good reminder to stop and pay attention to the needs of the people who surround us everyday. I feel that this Gospel challenges us to reach out to those in need of basic necessities (food, money, shelter) but to also be aware of others who may be in need of spiritual necessities - hope, love, peace, and joy - and to try and find a way where we can somehow provide that. Whether we do this by simply recognizing their presence with a greeting, having a conversation with them, or praying for them, this Gospel calls us to respond to those in need.
Jerico's Reflection
This weekend's reading talk about the way two men had lived and died. One of the men, Lazarus, lived a "bad" life having been described as someone who would have been well off eating the scraps of food from the Rich man. The other person was the Rich man who lived a lavish life. Both men had died and had encountered Abraham. The rich man asked for Abraham to have pity on him and Abraham in turn basically said, "Hey, look at the life you lived compared to Lazarus... although you lived your life, you didn't even recognize those who were tormented and lived a "bad" life. The rich man in turn asked Abraham to warn the others about his outcome so that they wouldn't have to go through the same torment he is experiencing now.
To me this reading at face value seems to sound a little harsh. Be good to each other or else... but I feel like there is more to the meaning. I think that Jesus is trying to tell us that each of us sometimes live a life that blinds us to see things that happen around us like injustices or poverty. This reading to me is calling each of us to be merciful to others and to not be so tunnel visioned but to widen our sight to see what is going on around us. I think God understand that sometimes our lifestyle blinds us. And I admit, it does! We unconsciously do not see a lot of things around us. Sometimes our brains are conditioned to treat certain situations a certain way. For example, how many times do we pretend that people who are homeless do not exist when they are asking for money on the streets. Or we tend to just keep away from impoverished areas, because they are "bad/unsafe" areas. All these thoughts and feelings are constructed from what we see in the media and sometimes from the lifestyle that we live. Even in our schools, how many times do we laugh or make fun of the kid or peer who tends to act "weird" (or what people don't consider as normal) or the people who sit alone during lunch.
I believe that this reading is a challenge to all of us. Its asking us to look around. Put ourselves in their shoes and ask. How would we feel to be outcast, turned away from and just messed around with. God doesn't make mistakes when he makes people. I think we each have the ability to see past constructed prejudices and judgements and see people for who they truly are. Each of us are a gift that should be celebrated. We each have a need that can be filled by the people we encounter in our lives, no matter who they are or where they came from. Just like how the rich man could have provided food for Lazarus, Lazarus could have provided the rich man with an opportunity to join him with Abraham.
I pray that this reading gives us an opportunity to look at our own lives and to see the gifts we can share with others. Sometimes we may feel that we don't have much to give, but we really do! God doesn't make mistakes, and God won't start with you!
Opportunities are all around us and I truly believe that answers to our prayers come in the form of opportunities.
Peace, Love and Blessings!
Michelle's Reflection
In the Gospel we are told the parable of a rich man and Lazarus. The rich man lived in extreme luxury while Lazarus, a poor man, would have, "gladly eaten his fill of the scraps / that fell from the rich man's table." Jesus says that Lazarus was at the rich man's door, however, the rich man never offers him any food, clothes, or even a bed to sleep in. The rich man continues to ignore Lazarus and is blinded by his material riches.
Eventually, Lazarus and the rich man die. While Lazarus is carried away to the "bosom of Abraham," the rich man suffers in torment and is separated from God.
If there was one word I would use to describe the rich man it would be indifferent. He was not interested or concerned for Lazarus. Perhaps he thought look, here is Lazarus, a poor man--destitute, useless, and indigent. Maybe the rich man didn't believe Lazarus deserved his luxuries. His riches. His blessings. What he failed to see is that Lazarus was a child of God no matter how poor he was. The rich man's materialistic possessions didn't bring him closer to God but pushed him further away from Him.
The Gospel illustrates God's love for the poor and as living disciples of Christ we too should show love and mercy to the poor, all those in need that are suffering, or individuals that just need a helping hand. We should try to live a life of richness not by materialistic luxuries but with love and care.