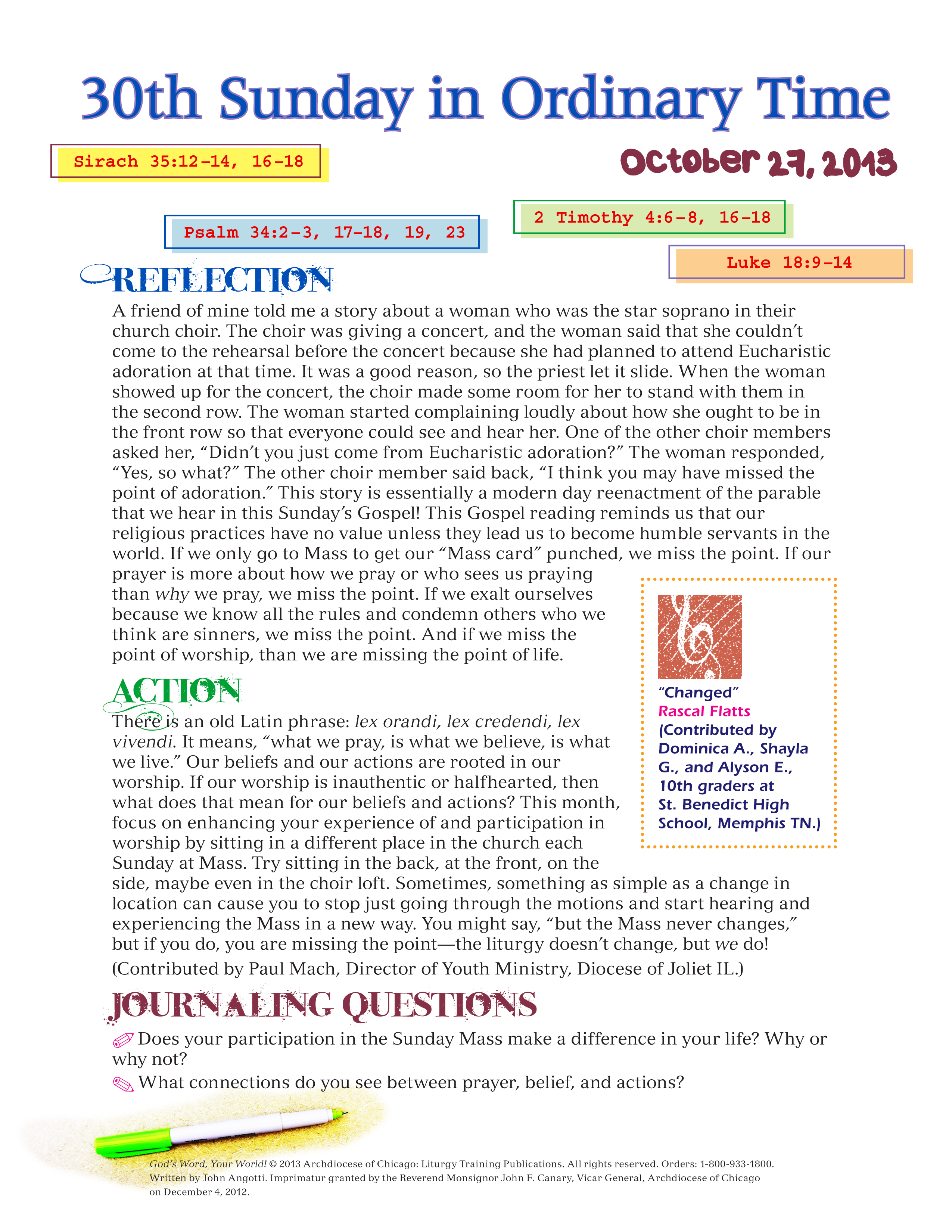 Gospel of Luke 18: 9-14
Maricel's Reflection
The word that stuck out to me in this weeks gospel is humility. The Pharisee was being bold and wanted to be praised for all to see but the tax collector quietly bent his head and asked God for forgiveness. Personally, I try to be like the tax collector and live a humble life. The saying "actions speak louder than words" resonates with this gospel.

Reading this gospel I asked myself: are you doing things for the praise? Are you doing things to get something out of it? Or are you doing things simply because it is what will make God happy?

I respect and admire those who do not speak of their own accolades but let others sing their praises.



Samantha's Reflection
The line that stood out to me was the, "to those who were convinced of their own righteousness." Being righteous is being moral.  We all know that as Christians, we are supposed to live as much as we can like Jesus Christ.  Do we ever feel like we're doing a good job?  Or doing a better job than other people?  Do we ever look at our peers and think, oh I don't smoke, drink, or do any of that bad stuff… I'm good, I'm better than that.

I know for me, I sometimes feel like I'm involved in a lot of things in church and that I am doing "enough."  I compare myself to friends or others who aren't as involved.  I tell myself, they should really do more to get involved in church, serve others, and share their time and talent… that's what it's all about.  But that isn't what it's all about.  Thinking I'm doing things better than others just because I'm more involved in church probably isn't the right mentality.  Our actions matter, how we treat people matter, helping those in need matters.  Others around me may be doing other things to build the kingdom of God… and maybe I don't know about it because they are like the tax collector standing off at a distance.  In a way, we are all tax collectors- we are all sinners.  But we should try to be the other part of the tax collector, too, who humbly asks God for mercy and forgiveness.  To me, this Gospel tells us that when we worship God, live like Jesus, and serve the church community, we should do so in quiet humility, as if only God were watching.